How to Prevent Wood Flooring Damage due to Humidity
February 2018 was the wettest month on record for Texas, with more than 11" of total rainfall recorded at the Dallas/Fort Worth airport. A heavy storm dumped nearly 5" of rain on the 28th, capping off the month and setting a daily record. Major cities across the country experienced record or near record-setting rainfall in February including Memphis, Dayton, and Chicago. Pittsburgh broke a more than century-old record with nearly 7" of rain last month.
So why are we talking about the weather? Because with rain comes humidity. And if not properly managed, humidity can be devastating to hardwood flooring.
Here's what happens
Wood floor installers leave "expansion" gaps around the edges that are approximately the thickness of the board, then cover the gaps with baseboards. If the humidity gets too high, the floor can expand beyond these gaps. If the floor uses 5" wide boards and the room is 30' across, that's 72 boards. Assume the gap on each side of the floor is ½", allowing for a total potential expansion of 1" along the length and width of the floor. If each of these 72 boards swells 1/16", the entire floor expands more than four inches.
If the humidity is so high that the floor expands beyond the gaps, it has nowhere to go and the floor buckles, causing cracks. Once the humidity drops, the floor should shrink back to its original size.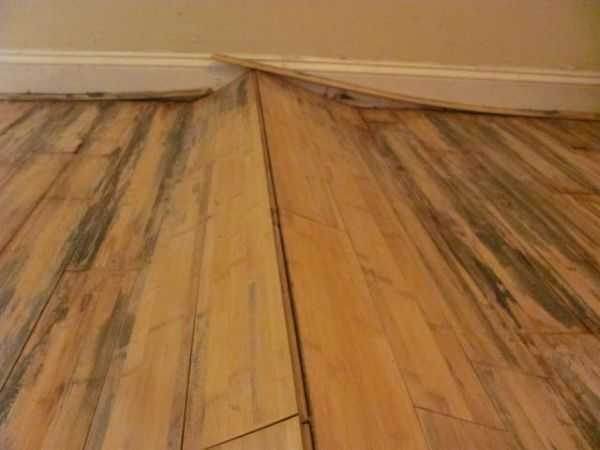 Photo by Don Sgroi, Dependable Floor Inspections
But the edges of the boards are now damaged and perhaps exposed. This can cause gaps between the boards or cracks in the center or ends of the wood itself. These splits or cracks will not completely disappear, but often the gaps will no longer be visible.
How to prevent damage due to humidity
You can't control the weather, but you can control the choices you make when selecting, installing, and maintaining hardwood flooring. Following are some ways to get the look and functionality you want, while reducing the risk of damage.
Start with the right wood. Bamboo is harvested from warm climates so it's naturally resistant to humidity changes. It's also environmentally friendly, beautiful, easy to install, termite resistant, moisture and stain resistant, and relatively inexpensive. Other domestic, warm-climate hardwoods include Black Cherry, Black Walnut, Red Maple, White Oak, American Beech, and Hickory. Even hardwoods like Brazilian Walnut or Brazilian Teak can be installed and maintained in humid climates with proper care.
Buy from reputable retailers or wholesalers. A knowledgeable reseller can recommend the best wood for your climate and application. They should also ask if the home has air conditioning, a humidifier, and/or a dehumidifier to keep the temperature and humidity variations within the ranges stated in the warranty. (If the environment isn't properly stabilized, the warranty will be void.)

Not every floor will fail due to these fluctuations, but taking the proper precautions will reduce the risk.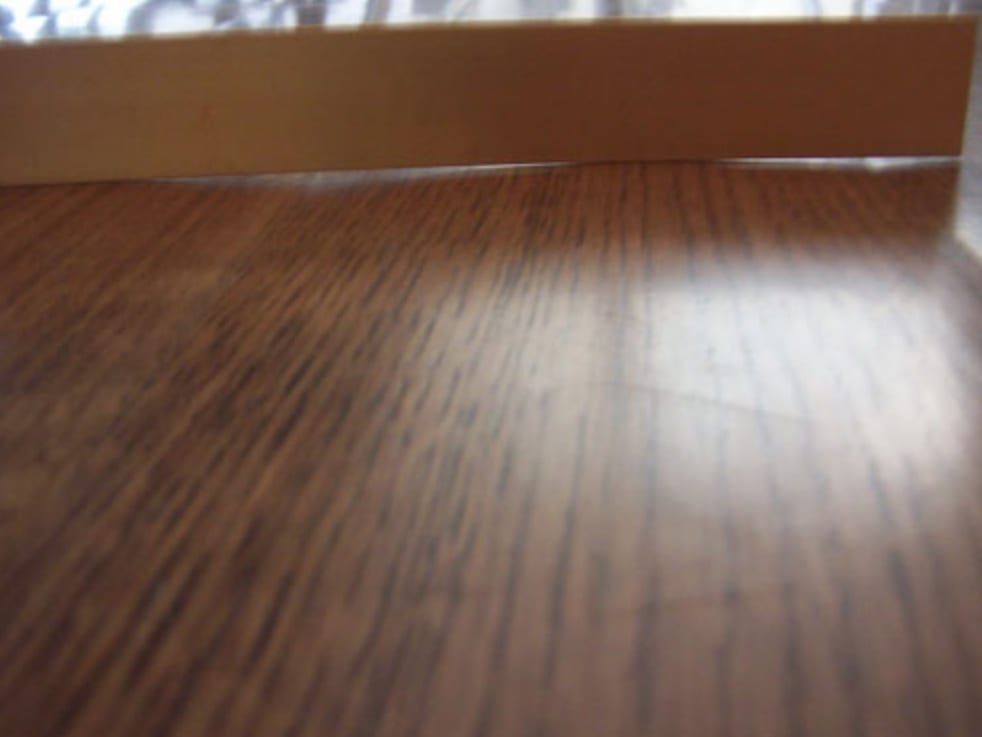 Photo by Don Sgroi, Dependable Floor Inspections
Use an appropriate underlayment. Some manufacturers require that an underlayment is installed under their hardwood floors to keep the warranty in force. In addition to providing a moisture barrier, underlayment protects the wood from a rough subfloor underneath.
Select the appropriate finish. A hard urethane finish will make wood floors more scratch-resistant and durable, repelling moisture and protecting the wood from traffic or falling objects. However, over time, urethane floors will show scratches, scuffs, and wear; eventually, they'll need to be refinished. This is a time-consuming and inconvenient process. Another option is an oil finish which has a lower sheen and a more natural aesthetic than urethane. Although higher maintenance than urethane, an oil finish brings out the natural beauty and feels like wood rather than a plastic finish. Oil finished floors also are easier to repair. Finally, although wax is inexpensive and easy to apply, we recommend against it for commercial applications because it scuffs easily, leaves water spots, and attracts dirt. Instead, we use Waterlox, a water-resistant varnish made from tung oil. It's natural-looking and elegant, and easy to maintain, touch up, or recoat if the floor gets scratched or abused.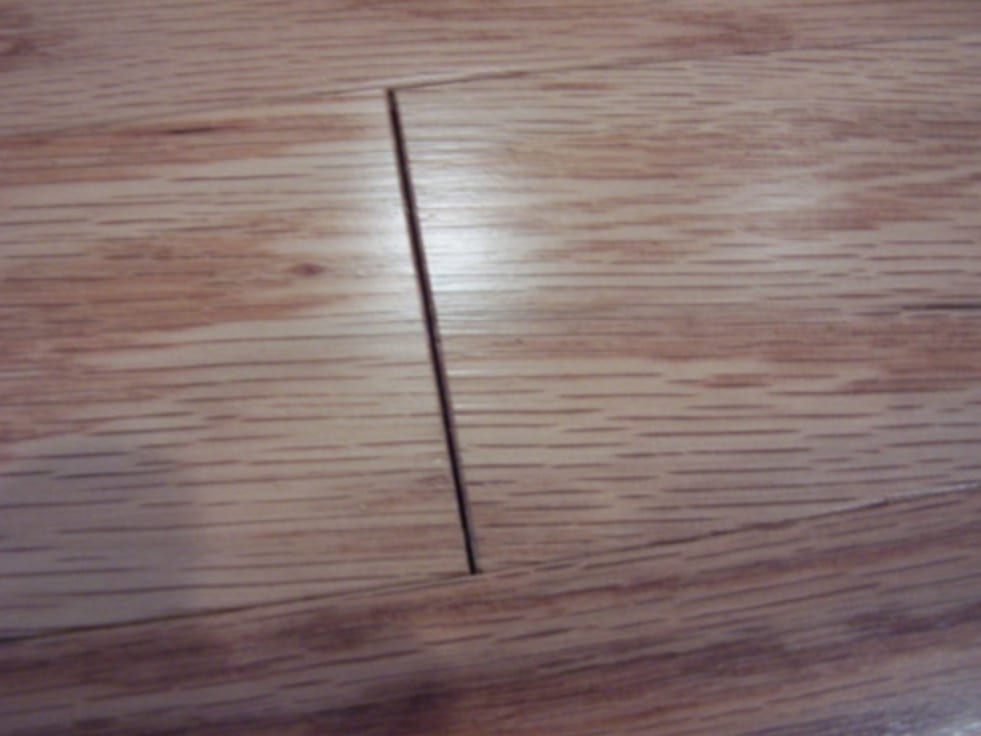 Photo by Don Sgroi, Dependable Floor Inspections
Choose narrower boards. Because there are more pieces, any expansion is distributed more evenly across the floor between the many seams, making it less noticeable and destructive.
Stabilize the environment. Ideally, rooms with wood flooring should be kept from 60˚F to 80˚F year-round, with a relative humidity between 30% and 50%. This can be accomplished with humidifiers in winter, dehumidifiers in summer, and of course, year-round heating and air conditioning. What feels comfortable to people is usually appropriate for wood floors. To gauge humidity, use a high-quality moisture meter or wet-dry bulb thermometer.
Maintain proper temperature and humidity, even when rooms are not in use. The heat should not be turned down too low when leaving an area unoccupied for weeks or months at a time. Air conditioning and dehumidifiers should be used in summer, and heat should be maintained in winter, even if no one is using the space. This will help maintain the humidity level and protect hardwood floors from potential damage.
Happy floors, happy clients
You and your clients must be pleased with the look, color, and feel of wood floors. But it's equally important to consider how the local climate might affect appearance and resiliency. That last thing you want is complaints from clients or extended legal battles because their floor is damaged and it's not covered by their warranty.
That's why the wood flooring decision is about more than wood species or visual aesthetics. The beauty of wood flooring, beyond the obvious, is its longevity. Ensuring that longevity requires choosing the right species and educating clients about how to care for it. The right wood flooring, when maintained properly, will last for decades.
If you're a commercial architect, interior designer, or specifier and you have any questions about wood floor specification, maintenance, finish, or repair, call us at 214-630-8811.
Need a project specific wood solution?