Decorative wood floor elements, such as medallions, borders and inlays, can add authenticity to any commercial or residential space. They are the perfect blend of today's innovation with the trends and traditions of the past.
In the early days, these decorative elements were hand-cut by by skilled craftsman. Today, we have machinery such as lasers and CNC machines to make the process faster. However, in the end though, it is still very much a partnership between the wood and the creative vision from the designers and craftsman. For Woodwright Hardwood Floor Company, the process of creating these medallions is very much a labor of love…..and patience.
We take the time to appreciate the unique characteristics of various species and cuts of wood and patiently craft design elements that enhance our projects. There is nothing more satisfying than melding the inherent beauty of a naturally rich grain pattern with the meticulous hand-crafting skills to exceed a client's expectation.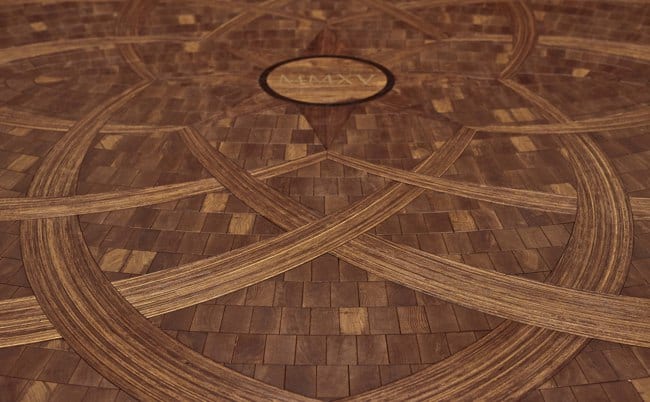 While most people can agree on how beautiful a wood medallion is, there are few that fully understand the amount of work that goes into creating one. The process of making a medallion can take a few weeks to several months, involving painstaking hand assembly by highly skilled woodworkers with a passion for their craft. Get a glimpse of how we create a medallion by watching the time lapse video below.
Ask any wood floor installer and they will tell you that the most stressful part of the process is installing a decorative element. One small mistake could ruin hundreds of hours of work.
Whether you are restoring an older environment or looking to create a new space with lasting appeal, Woodwright can help with a full range of concept to completion services. You can view inspiration at our Pinterest page.
Transform your vision, unleash your inner wood geek and design a unique element that captures the essence of your personality or heritage. Go ahead, challenge us!
View our Pinterest
for Design Inspiration
Contact your Local Woodwright
Architect + Design Representative