Unparalleled quality.
Truly custom wood solutions.
Woodwright is dedicated to the craft of providing unique wood solutions. After all, wood is all we do! Our passion for wood is the driving force behind each handcrafted hardwood element we create.
The Woodwright Difference
At Woodwright, our products are 100% customizable, offering our clients the freedom to adapt any design concept to their unique project requirements.
Woodwright's sales experts are happy to assist with all aspects of wood flooring, wall and stair selections. They go the extra mile to see to it that you have the data you need to make product choices that are in your or your client's best interest.
What you can expect from us, regardless of the project size or complexity:
Custom, project specific materials
Artisan quality sampling
Flexible and versatile manufacturing capabilities
Commitment to our sustainable initiatives
An educational approach to ensure proper material selections
Our Clients
Woodwright sells our spec products to clients for projects outside of Texas and Oklahoma only.
Why? We are a wood flooring contractor who installs our specified materials on all regional (Texas and Oklahoma) projects using our on-staff craftsman and professional construction management. These master craftsmen, in collaboration with our superintendents, allow us to provide single-point accountability and impeccable installation services for clients inside our region.
Turnkey Installed Proposal
We will gladly provide turnkey installed pricing on any regional project however we do not sell our spec products to other subcontractors.
Material quotes are only offered for specified products being installed on projects outside of our region. Samples and submittals are available upon request.
Turnkey Installed Proposal
We will gladly provide turnkey installed pricing on any regional project however we do not sell our spec products to other subcontractors. Request an installed proposal
Material only quote
Material quotes are only offered for specified products being installed on projects outside of our region. Samples and submittals are available upon request. Request a material quote
Our Shop
Custom Manufacturing Capabilities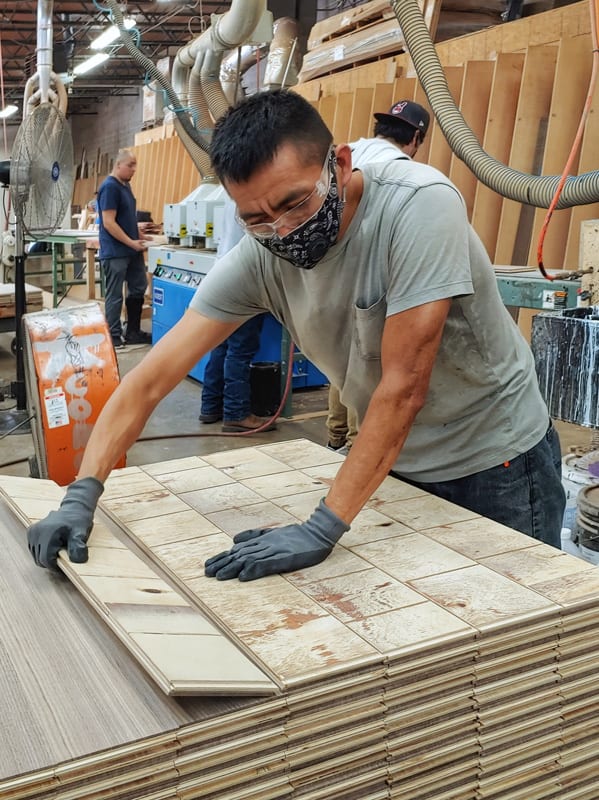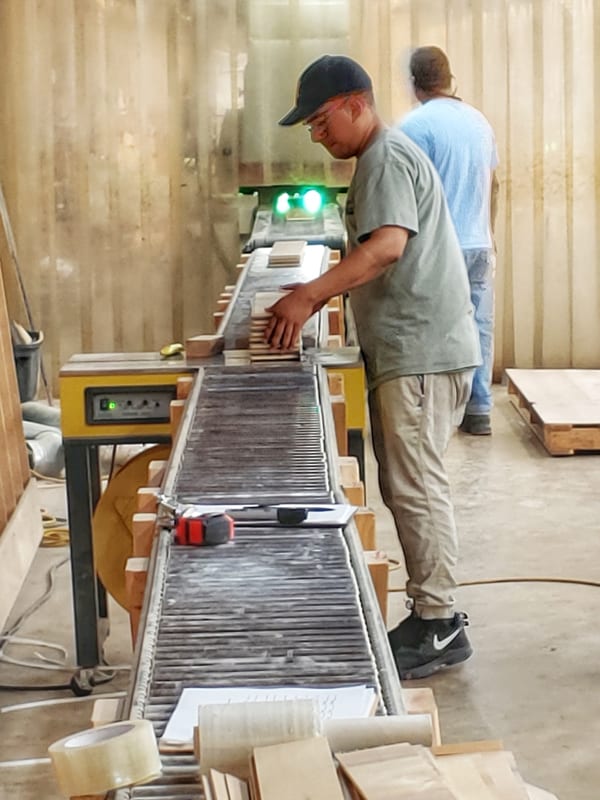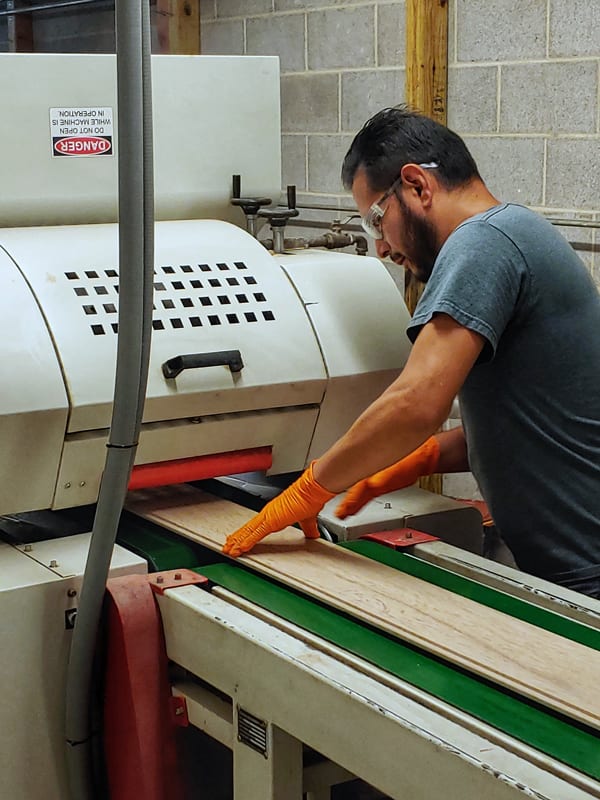 Woodwright's manufacturing facility provides extensive capabilities, including in-house fabrication of wood flooring, treads/risers/nosings, and unique wall materials. In addition, our pre-finishing department and UV Finish line allow us to create unlimited flooring options. Our CNC and Laser capabilities also enables our clients to truly express their creativity.
Our dedicated sample department is at the center of it all, churning thousands of artisan-quality samples annually to impress our most discerning customers.
At Woodwright, we have a passion for our craft and an appreciation for the design process. Customization is not just something we offer, it's what we live for every day, and that pursuit often starts right here in our Woodwright Lab.
The Woodwright Lab is "creative central" where our on-staff artist develops new concept samples, tests out ideas and even uses our 3D printer to bring clients' vision to fruition.
CNC Cut and Laser Etched "Marilyn Monglow"
Custom Pattern with Italian Marble Inlays
Copper Stitched Walnut Planks
Pyramids with CNC Designs
Have a unique project in mind? We'd love to discuss your ideas and how our shop's capabilities can bring them to life. 
Hand Crafting something exquisite from wood takes time, experience, and quality materials. It also helps to have a process that highlights the natural beauty of the wood itself. At Woodwright, this is what we do. Our focus on project-specific options, custom sampling, and creative solutions gives us an advantage in how we can assist our clients. Every product we make is fashioned in our shop by an expert craftsman with meticulous attention to detail that delivers the perfect aesthetic every time.
We invite you to expand your design palette, dream a little and look for opportunities to express new ideas. Our flexibility in our manufacturing can be just the ticket or the ideal solution.
Wood Flooring
Nothing raises the level of elegance in interior design more than timeless, quality hardwood flooring. With over 3 decades of experience, our custom manufacturing facility can produce virtually anything you dream up.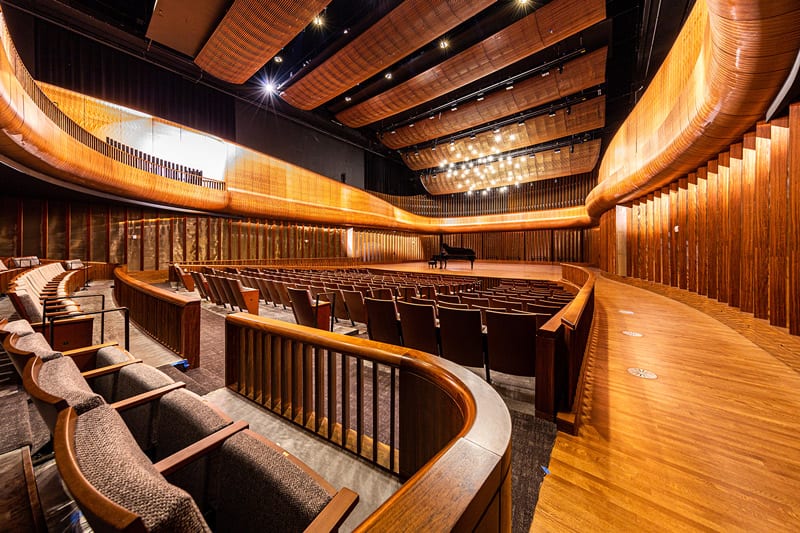 Any specie, width, or grade needed for your project
Engineered or solid wood
Shop finished or site finished
Straight planks or patterns (traditional to contemporary)
End Grain floors
Planks up to 11" wide and 12' long (or longer)
Color! As important as it seems, color is the least of our concerns since we create custom stain colors every day. Looking to match something? Send us a sample!
Luxury Residential
Craftsmanship and Quality are woven into every wood floor we produce. Having trouble finding the perfect floor for your home?
Let our knowledgeable design consultants assist you in finding the solution that best fits your lifestyle and budget.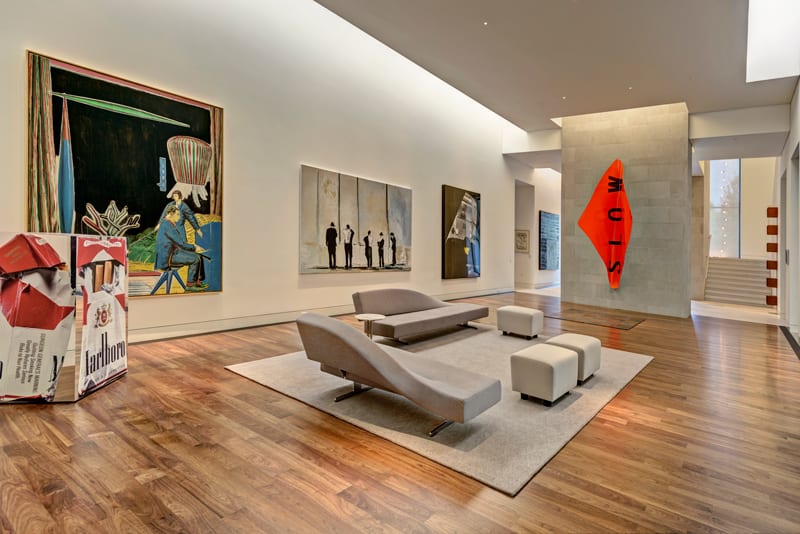 Select your specie, width and grade
Choose from engineered or solid options
Fine tune your desired stain color
Stairs and Seating
A hot new trend in commercial construction, wood stairs require an experienced installation team and meticulous attention to detail. Woodwright has extensive knowledge in the art of manufacturing and installing monumental stairs and elaborate social seating applications. Let our experienced team assist you through the process.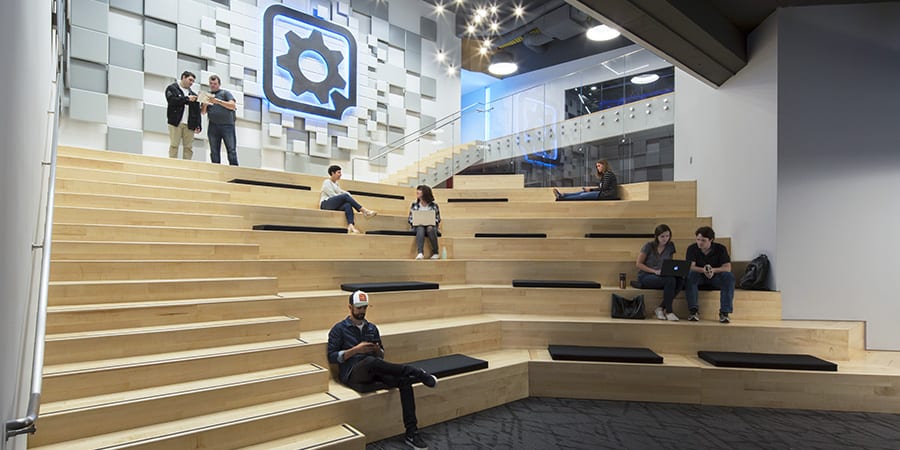 Extensive Tread options in any specie or design
Don't forget the Risers… or leave open
Multiple inlay options to create a visual reference
Nosings made in a plethora of profile designs
Easily create unique tiered seating and plinths
Elegant and Unique Wall Applications
The same gorgeous techniques and products that are used for our wood floors can also be translated to wall or ceiling applications. Create different design trends, from classic to contemporary, and think outside the box with a beautiful interplay between wood and other fine materials such as stone, glass, or leather. Mixed media wall creations add something extra too!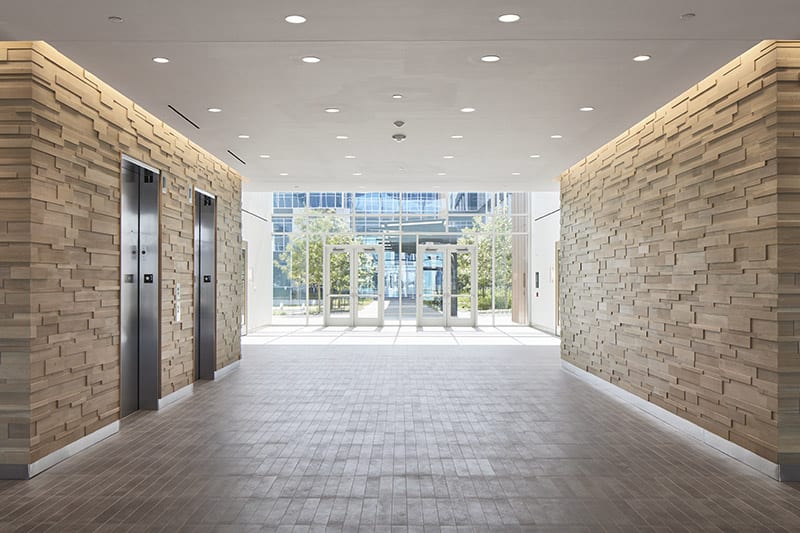 Flat walls – any of our custom T&G floors simply installed on vertical applications.
3D Planks – add a textural elegance with different thicknesses of planks.
3D Blocks – take it up a notch and get maximum impact with 3D modular blocks.
Patterns – sure, they can be put on walls too.
Mixed media – get creative and perhaps add accents of hair on hide leather or metal.
Maybe backlit glass. The sky is the limit!
Custom Plank Ceiling Applications
Large expansive ceilings can be easily accomplished with random length flooring planks, which creates a look very popular to today's market and without the limitations of veneer.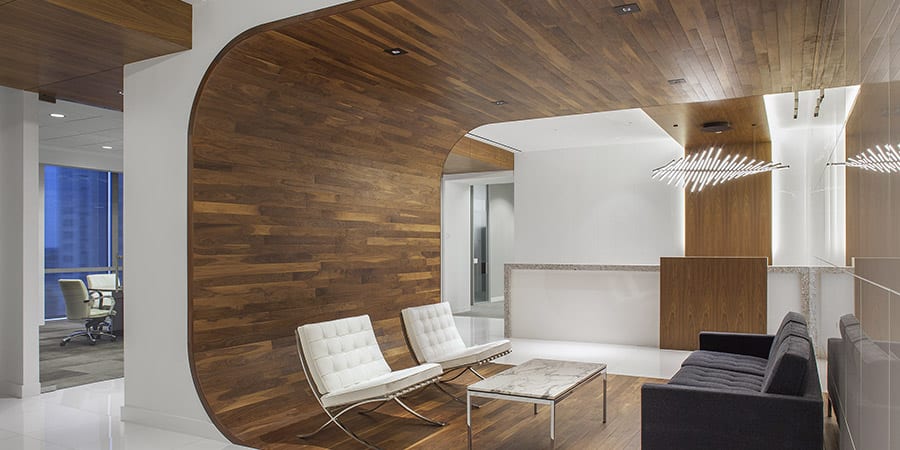 Flat planks primarily
Specialty corner details are available
Laser and CNC Design Elements
Several of the unique projects our company has been privileged to work contain elements that reflect the perfect blend of today's innovative technology with the trends and traditions of the past. Modern equipment certainly makes the process faster, however, in the end it is still a partnership between the creative vision of the design team, the artistry of skilled craftsman and the Wood itself.
CNC Techniques
Computer numeric control (CNC) describes the process of controlling specific machinery with a computerized program. Here at Woodwright, this refers to our CNC router or milling machine with a vacuum bed.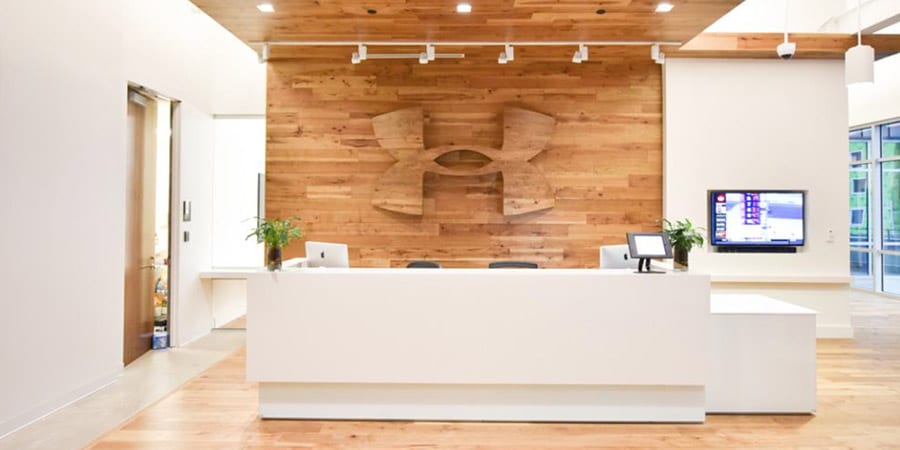 Create curved planks or radius nosings
Adds 3D texture to a variety of materials
Carve designs shallow or deep into wood
Mill wood up to 3" thick…For example: Creating a recess in the underside of thick solid wood tread for easier installation.
The sky's the limit!  Bring us your ideas.
Laser Techniques
Woodwright utilizes a variety of lasers and advanced techniques to produce intricate design elements for our most discriminating clients.
Laser-cut medallions, borders, and inlays
For designs that incorporate multiple species and grain directions. Woodwright's traditional laser cut medallions, borders or inlays are produced by cutting through approx. ¼" thick solid wood and assembling the intricate pieces onto a backer to be installed flush with the surrounding flooring. This method offers maximum resandability yet can be showcased on millwork applications as well.
Etching
Etching is the perfect option for wall applications as durability and resandability is not a concern. Any design, logo, or even mission statement can be laser-etched into wood planks.
Let Us Inspire You!
Have an idea or project where this level of creativity could make all the difference? Need a sample that will blow your client's mind? We're ready to help!