How to Create Visual Aesthetics with Wood
Have you noticed the trends in wood flooring? Those intense, extreme colors are still "in"—from whitewashed grays and blondes to dark walnut and espresso—often in the same installations. The natural, unfinished, raw wood look is still very popular along with the low-sheen, no-sheen, matte finishes which have been popular in Europe for years.
But these trends are not really new. Working with the best architects and designers in Dallas and beyond, we have the benefit of seeing their creativity before it becomes a trend. And if we're really fortunate, we get to bring their visions to life in the form of beautiful wood floors, stairways, walls, and art.
You could create something that has the chance to become a new trend in years to come. Old trends can also be used as a stepping stone to creating something unique and never before seen. The floor pattern, stairway design, or art you design and we create may not be mainstream today, but who knows? In a few years, what we create today could be the trend tomorrow.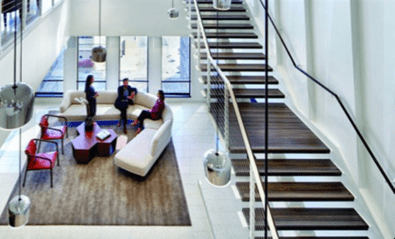 Play up contrast
Maybe you're designing or remodeling an ultra-contemporary space but it feels sterile or cold. You can maintain the contemporary feel and add warmth with a minimal amount of wood. In the photo below, the dark, solid edge grain, white oak stair treads contrast with the white risers to create visual interest.
In a similar blend of modern and traditional styling, this staircase's fully wrapped, curved wooden treads contrast with steel plates and glass risers.
Create a focal point
Whether it's an accent wall, a floor mosaic, a unique pattern, or a plinth at the base of a staircase, wood can be used to create a focal point in a room. A plinth usually refers to a block or slab at the base of a column, pedestal, or pier; sometimes, statues or vases are placed on plinths. In this case, a plinth refers to a raised area at the base of a staircase which can be used for seating or just to highlight or showcase a certain area of a room, such as a staircase itself.
Think like an artist
In 2008, Crow Holdings (the legacy of real estate mogul Trammell Crow) moved its headquarters into the newly renovated, historic Parkland Hospital building in Dallas. Parkland is best known as the hospital where President John F. Kennedy was pronounced dead after being shot on November 22, 1963. The original Nurses Quarters was also renovated in 2008 and is home to corporate tenants, a tavern, and a large, multipurpose room. Two more buildings were added in 2010, and another in 2013. Construction of three more buildings began in 2012.
It would have been easy for the Crow company and its tenants to choose traditional flooring, especially considering the setting. Instead, they worked with architects and designers who created historically accurate yet innovative spaces with a common thread.
Pictured below is an 18-foot wood medallion surrounded by a white oak herringbone pattern that we installed in the Debate Room; it's one of many custom medallions we designed and installed in Parkland buildings for state senators, representatives, and private corporations.
We also specified and installed a variety of flooring in multiple patterns, finishes, and textures. Each installation reflected its tenant's unique style and personality while complementing each other, providing a sense of unity throughout the complex.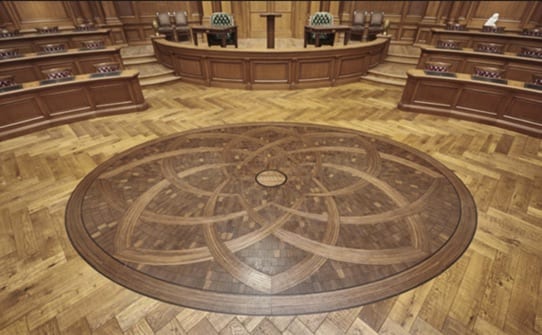 Explore another dimension
Wood doesn't have to just go on floors. This three-dimensional wall at the University of Texas features end grain wood in various reliefs. If you wanted to display awards or artwork, you could build shelves as part of the wall. Or, you could extend letters or shapes to form a word or logo as part of the wall.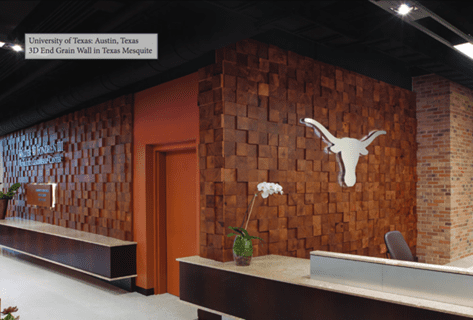 Consider the setting
Incorporating elements from a corporate setting in a residential environment can make a home look more formal. Similarly, incorporating elements normally found in a residential setting in a corporate environment can make a business seem more welcoming and homey.
Installing commercial flooring in a residential environment won't likely cause any problems. However, installing traditionally residential flooring in a commercial environment presents some challenges. Most residential flooring isn't made to withstand the heavy foot traffic, office furniture, and other physical demands of a commercial setting.
For example, in residential homes, it's common to see a smooth textured walnut floor with a matte oil finish. It looks beautiful in a home and may even be partially covered with area rugs. And because traffic is minimal, it will wear just fine. Plus, the homeowners are very aware of the investment they've made and are likely to properly maintain it.
However, in a commercial setting, that same floor will get considerably more traffic from people, equipment, delivery personnel, furniture, etc., and will show every Scratch, scuff, and dent. A hotel lobby or office building could get a similar look and feel with a harder wood and a matte urethane finish that would wear better, be more durable, and be much easier to maintain.
You can also tie in to the sustainability trend with weathered, natural looking floors often seen in homes. For more durability, we use wire brushing which removes the soft wood and increases strength and hardness. Other looks like hand scraping and barn wood can be replicated or adapted for commercial settings with the right treatments and finishes.
You're only limited by your imagination
We work with architects and designers from the initial design concept phase—including custom sampling and assistance with specifications—so we can help answer any questions, explore options, brainstorm with you, and help you imagine all the possibilities.
View our Pinterest
for Design Inspiration
Contact your Local Woodwright
Architect + Design Representative