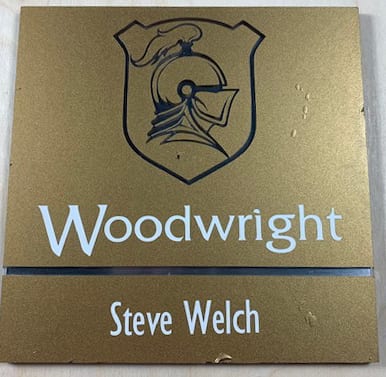 It all began, at least for me, with a simple gold earring.  You see, I met Steve Welch when he walked into the furniture store I was working at in North Dallas.  He was recently divorced and got the house in the settlement, but his ex-wife got all the furniture.  Enter fate…we hit it off immediately, but he didn't buy a single piece of furniture from me.   He invited me down to his office on Dragon Street and I excitedly accepted.  This was mid 1990's, way before Dragon Street and the design district was cool. It was a leased warehouse with 2 primitive private offices and a cavernous, utilitarian shop space.  Steve proudly displayed his Woodwright name plate outside that simple office door.
As I soon found out, he had much of which to be proud!   Woodwright started 11 years earlier in 1985 when Steve and his uncle, Tom Peterson, decided there was a need for a company that specifically and exclusively installed and refinished wood flooring.   They cleared space in Tom's garage and went to work for companies that had experience in commercial carpet installation but didn't necessarily want to do wood.  Turns out it was a brilliant idea and Woodwright Hardwood Floor Company quickly became experts in wood flooring and established our name as the go-to guys in the metroplex.  Work began coming in regularly and they moved from Tom's garage to a unit at a storage facility that they converted to a shop where they milled miles of Brazilian Cherry.  They quickly outgrew that space as well, so they relocated to the place on Dragon Street and Steve found himself running the company.  He bought out Tom's share of Woodwright and was not only doing a lot of the labor, but also managing the everyday administrative portion of a business.  He had a vision from the beginning of what he wanted it to become and he was a man on a mission.   If you ever met Steve, you know what I mean when I say he was beyond smart.  He was the kind of intelligent, intuitive person that knew things naturally.  He was the most knowledgeable man I have ever known, and he was both a teacher and a student of life.  He had no business background, but that did not deter him from building Woodwright into a multi-million-dollar company that is recognized nationally as a titan in the industry.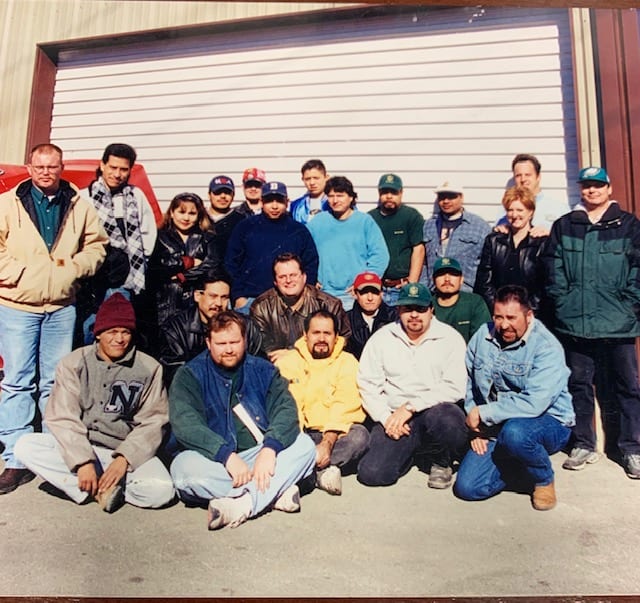 Over the years, we have grown and refined our craft and began manufacturing much of your material to create the custom specifications called out by architects and designers. In addition to flooring, we do walls , ceilings and lots of spectacular stair projects. We take great pride in the family centric culture that Woodwright was founded upon and values greatly. Most of our employees have been with the company for more than 10 years, and there's even a couple that date back to that garage where it all began 35 years ago!   
Having been here the longest, Superintendent Bruce Western and Master Mechanic Salvador Lupercio have seen all the change and spent most of their adult lives working with Woodwright. They embody the core values of our company – integrity, honesty and quality.  James Colten, our COO, started in 1993 shortly after returning from service in the US Navy.  He started out as a helper and literally worked his way up.  James takes our company very personally and knows the intricacies of everything we do.  He has taken on the operations of the company without falter after Steve's unexpected passing in 2016.
This love story, as most of the great do, has more than it's share of heartbreak.   We lost our founder in January of 2016 and it struck us to the very core. We were shattered, shocked and yes, we were scared. How could we go on without STEVE? He built this company, he was the very essence of the company! But the very beautiful part about this story is that the company that he built was so strong and so viable on its own that we were able to continue his legacy.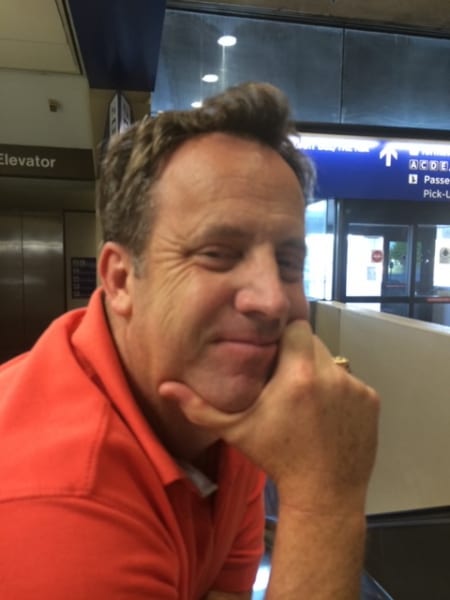 It has been four very long and challenging years. However in that time, Woodwright has grown into an even better and more relevant company that it has ever been. We are in a beautiful 30,000 square foot building on Regal Row with a state-of-the-art custom fabrication shop and huge showroom. Our staff of over 70 people includes a sales department, an estimating team, CAD designer, and full time Artist/CNC Specialist, in addition to the dedicated craftsmen who do the fabrication and installation. We have expanded our outreach to markets nationwide and are continuing to build upon that success.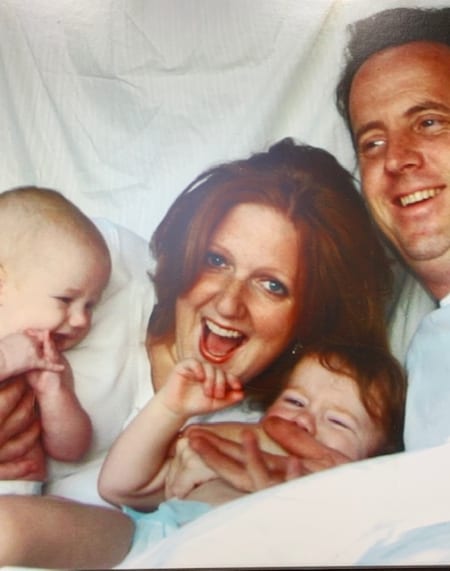 So what does this all have to do with a gold earring? You see, when Steve invited me to that little warehouse on Dragon Street, I intentionally left an earring behind so that I would have an excuse to see him again.  He was a truly great man that built a truly phenomenal company and it is now my mission to ensure that it continues to be a place where quality and craftsmanship come first and honesty and integrity are our driving principles.
Thank you for taking the time to read our story,
Lorie L. Welch
CEO
Need a project specific wood solution?