In Woodwright's previous blog on How to Specify Wood on Commercial Stairs, we outlined various options to consider for treads, risers and nosing profiles used at landings and plinths.
Most Designers agree that focal area staircases make a definitive statement about a company's culture to prospective employees and clients.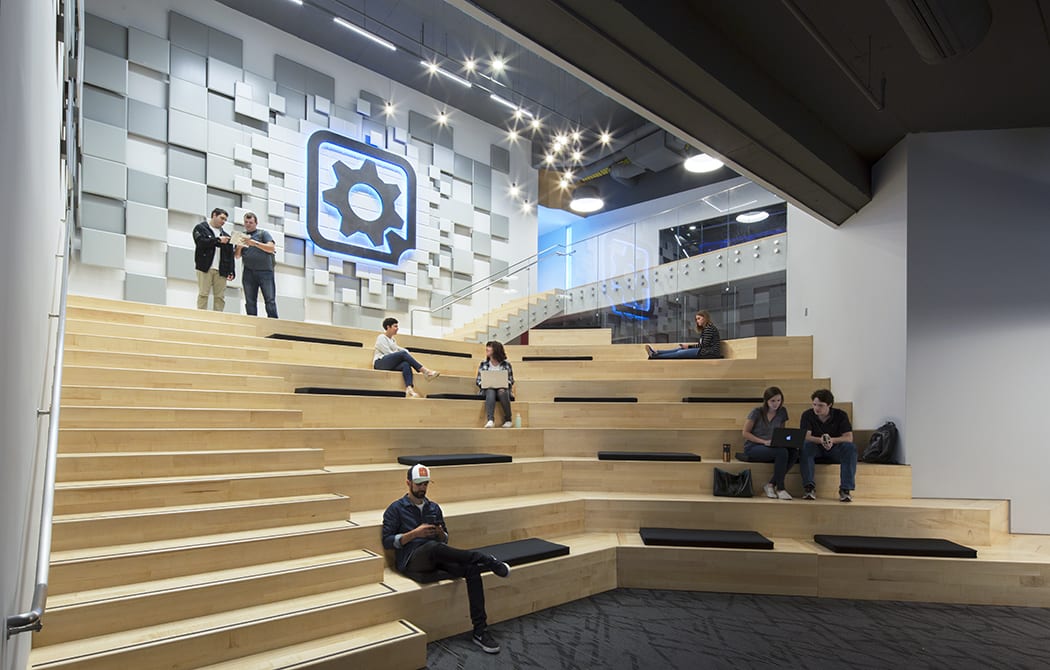 This blog ventures deeper into the use of technology and creative features that can make your stair projects truly unique and client centered. The popularity of adding grandiose wooden focal elements into commercial spaces has vastly increased, especially when it comes to monumental stairs, social seating, teaching stairs and public collaboration areas. In today's technology driven society, it is now much easier to incorporate functionality into these workplace designs.
Designing a set of stairs offers a huge opportunity to express creativity and unique style. Read on to explore ideas on how your next stair design could be more impactful.
Risers
A stair riser is the near-vertical component in a set of stairs, forming the space between each walking surface. The height of each step is called the rise. All stairs have a rise, but they may not always utilize a riser. Open designs, those with no risers, are very popular, however check your local building code requirements.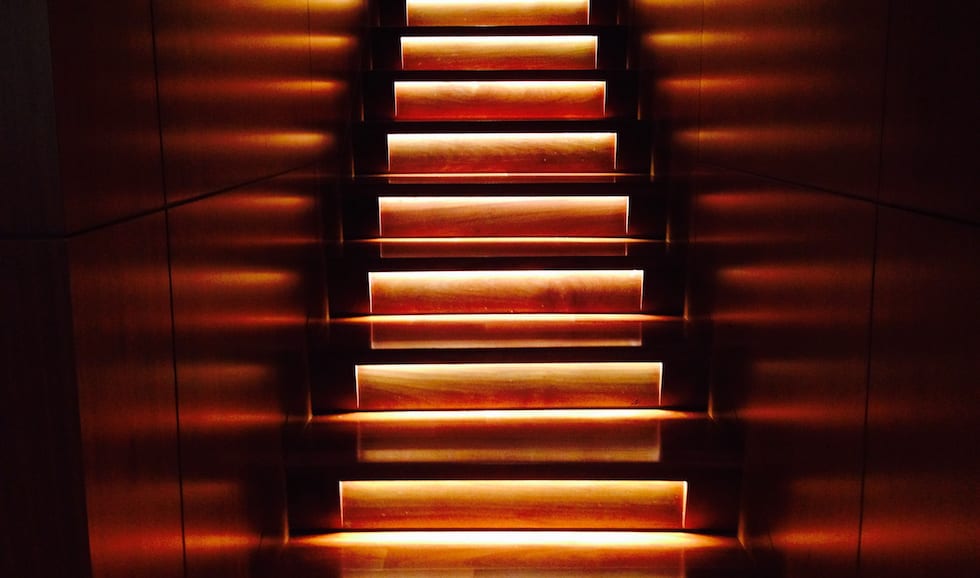 Light it Up!
Clear glass risers certainly have a simple elegance about them but if you're looking to jazz up the design, consider etching a design or lighting them up with LED lighting.
Illuminate the riser or walking surface by incorporating LED lighting into the nosing or stringer for visual effect, not to mention safety.
Functionality
Large scale wooden social seating has been a staple for eye catching commercial design in recent years in corporate, higher education and even some K-12. It offers useable space for working, relaxing, and collaborating which has changed the way we look at stair features in the design world.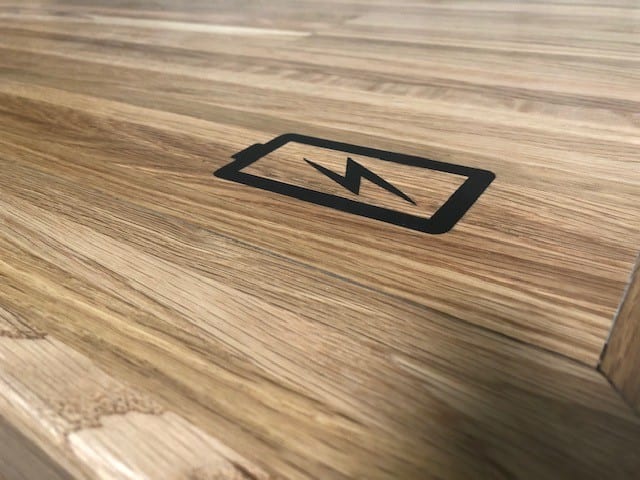 Integrate technology for increased functionality!
Wireless Charging stations
USB Charging ports, etc.
Electrical Outlets
Social Seating, Learning Stairs, Collaboration areas?
1. Community and Collaboration
More and more companies today are recognizing the value that multi-purpose stairs offer. In addition to getting people to and from various floors, they create a physical and psychological connector linking employees in different departments.
2. Flexibility and Efficiency
As the center or heart of the space these areas create opportunities for flexibility – transforming the space from an informal gathering area for groups to a formal teaching/training space. It has become a tool to generate openness and collaboration, two primary goals of modern office design.
Wellness is a key benefit of learning stairs as they encourage and promote physical activity and circulation, create routine travel breaks and increase opportunities for social interaction. In climates where outdoor access is not an option during various times of the year, learning stairs can provide a convenient means of active transportation and exercise. They incorporate all parts of the WELL building condition on Interior Fitness Circulation, which addresses health in the built environment and encourages wellness.
3. Circulation and Wellness
You're in a transitional phase when you are walking on stairs and are more open to real moments of communication.
4. Food For Thought!
You can't look at your phone when you're walking on stairs, thus you are looking around and more likely to see someone than if you were walking down a hall with your face buried in a phone.
Next Level Upgrades
With the continuous advancements in technology and innovations in design, it is always a challenge to provide products, services, and capabilities that keep up with the ever-changing industry standards. Woodwright encourages Designers and Architects to continue to push the envelope with new and fresh ideas using one of the industries most trusted and tested resources in hardwood!
Use our Find Your Rep tool on our website to contact your Architect + Design consultant today to see how our expertise and experience can best assist you on your next masterpiece project today!
Contact your Local Woodwright
Architect + Design Representative